Social Security and Medicare Taxes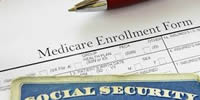 Who Pays Social Security and Medicare Taxes?
Employees, employers, and self-employed persons pay social security and Medicare taxes.
When referring to employees, these taxes are commonly called FICA taxes (Federal Insurance Contributions Act). When referring to self-employed persons, these same taxes are referred to as self-employment taxes, which are figured on Schedule SE by self-employed individuals..
If a person has a job and is also self-employed, the gross compensation from the job plus net income from self-employment are added together and counted toward the maximum social security wage base for the tax year
Social Security Wage Base:
2016: $118,500 (since there is no COLA, by law these amounts remain unchanged in 2016.)
2015: $118,500
2014: $117,000
2013: $113,700
2012: $110,100.
Medicare Taxes: Every dollar of wages, salary, bonuses, and other compensation is subject to Medicare taxes. Unlike the income limitation for Social Security taxes (i.e. $118,500 for 2016), there is no income limitation for Medicare taxes.
Social Security and Medicare Tax Rates
Employers and Employees: 2016, 2015, 2014, and 2013:
The employer/employee each pay 50% of the total security rate. The total social security rate is 12.4%. Therefore, the employer/employee each pay 6.2%..
The employer/employee each pay 50% of the total Medicare rate. The total Medicare rate is 2.9%. Therefore, the employer/employee each pay 1.45%.
Self-Employed Persons: 2016, 2015, 2014, and 2013:
The self-employment tax rate remains 15.3% for 2016. This rate equals the total social security rate of 12.4% plus the total Medicare rate of 2.9%. While employers and employees each pay one-half of the social security and Medicare tax rates, self-employed persons pay both halves, 15.3%..
Don't Screw Up Trust Fund Taxes!
A trust fund tax is money withheld from an employee's wages by an employer and held in trust until paid to the Treasury. Trust fund taxes include income taxes, social security taxes, and Medicare taxes.
Congress has established large penalties for delays in turning over employment taxes to the Treasury. In addition, if you intentionally don't turn these taxes over to the U.S. Treasury, you can face criminal prosecution.
Using a payroll service is a low cost and effective way of handling the complexities involved in payroll processing and avoiding stiff noncompliance penalties. A payroll preparation service will do the tax computations, file the quarterly and annual payroll tax returns (Form 941 and Form 940), remit payroll taxes to the IRS on your behalf, cut the paychecks, and provide you with periodic payroll reports for your records.
Do Your Payroll Online!
Get started with Intuit Online Payroll Software and make running payroll simple so you can focus on what you love.
QuickBooks Self-Employed
For Freelancers and independent Contractors

- Organize your financial data into one central accounting system on the cloud
- Software kept up to date.
- Your data kept secure
- Anytime, anywhere data access.
- Pay your quarterly estimated taxes online.
- Export Schedule C to TurboTax at year-end for faster filing.
- Save up to 50% off QuickBooks Self-Employed. Track every deduction! Start your free trial now!
Have an accounting or bookkeeping question? Email it to me.