What's in the Trump Tax Cut Bill?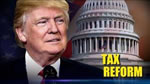 December 20, 2017: Just after 1 a.m. Wednesday morning, the Senate passed the GOP tax bill. Due to a procedural error, the house will have to redo their vote. House Ways and Means Committee Chairman Kevin Brady, R-Texas, jokingly said he'll be happy to vote twice for a tax cut. Looks like President Trump will get his chance to give the country the Christmas present he's been promising.
Here's what's in the bill:
Corporate tax rate: The corporate tax rate will be reduced from the top marginal rate of 35% to 21%.
Pass-through businesses: Pass-throughs, which include LLCs, S corporations, partnerships and sole proprietorships, could qualify for a 20 percent deduction and see their top top rate drop from 39.6 percent to 29.6 percent.
Individual tax rates: For individuals, the top marginal rate will be reduced from 39.6 percent to 37 percent.
Standard deduction: For single filers the standard deduction increases to $12,000 and for joint filers it increases to $24,000. However, the deduction for personal exemptions is repealed.
Child tax credit: Families will get additional child tax credits, and a portion will be refundable for households that owe no taxes. The tax credit for each child under 17 will double from $1,000 to $2,000, plus $500 for non-child dependents. It also applies to more affluent families than previously, phasing out at $400,000 rather than the current $110,000 for joint filers.
Mortgage interest deduction: Mortgage interest will be deductible on mortgages up to $750,000. Previously, interest on mortgages up to $1.1 million were allowable.
Affordable Care Act Mandate Repealed: The penalty for not having health insurance under Obamacare is eliminated starting in 2019.
Education tax deductions: The American opportunity tax credit, lifetime learning credit, and the student loan interest deduction remain in place.
Medical deduction: The medical expense deduction remains in place.
SALT: The state and local tax deduction is capped at $10,000. Previously there was no limit.
Alternative Minimum Tax (AMT): Fewer households will face the alternative minimum tax. Currently, the tax is triggered at $164,000 for joint filers. That will go up to $1 million.
Estate tax: The amount shielded from the estate tax will be doubled. It will affect estates of at least $11.2 million, or $22.4 million for couples.
Overseas Corporate Assets: U.S. businesses with assets overseas would be allowed to "repatriate" those assets at 8 percent, or 15.5 percent for liquid assets.