2018 Tax Filing Season Begins Jan. 29, Returns Due April 17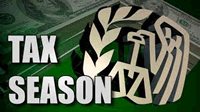 The IRS will begin accepting tax returns on Jan. 29. The tax filing deadline will be April 17 this year – so you have two extra days to file. Keep in mind, many software companies and tax professionals will be accepting tax returns before Jan. 29 and will submit your return when IRS systems open.
Although the IRS will begin accepting both electronic and paper returns Jan. 29, paper returns will begin processing later in mid-February as system updates continue. Filing electronically is highly recommended to a get faster refund. The IRS set the Jan. 29 opening date to ensure the security and readiness of key tax processing systems in advance of the opening and to assess the potential impact of tax legislation on 2017 tax returns.
Earned Income Credit (EIC) and Additional Child Tax Credit (ACTC)
By law, the IRS cannot issue refunds claiming the Earned Income Tax Credit (EITC) and the Additional Child Tax Credit (ACTC) before mid-February. While the IRS will process those returns when received, it cannot issue related refunds before mid-February. The IRS expects the earliest EITC/ACTC related refunds to be available in taxpayer bank accounts or on debit cards starting on Feb. 27, 2018, if they chose direct deposit and there are no other issues with the tax return.
If Using Tax Software for the First Time
If you're using a tax software product for the first time you'll need your adjusted gross income from your 2016 tax return to file electronically. If you're using the same tax software you used last year you won't need to enter prior-year information to electronically sign your 2017 tax return. Using an electronic filing PIN is no longer an option.