Delinquent Employment Taxes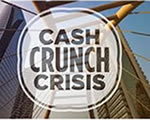 In a cash crunch? Tempted to put off paying employment taxes? Don't! The IRS views late payment of employment taxes as a serious matter and the penalties reflect this.
The penalties for failing to pay employment taxes, particularly employment taxes, are severe and a lot more than you may have to pay a creditor on past-due bills.
For example, the penalty for failure to pay trust fund taxes (FICA taxes and federal income taxes) is 100% of the tax liability!
Businesses have failed because of the heavy burden of having to come up with the funds to pay delinquent taxes left unpaid for long periods of time.
Each month, when paying your bills, make sure your tax liabilities are at the top of the list! Talk to your creditors to ease their anxiety if things get really tight. Let them know you haven't forgotten them.
Check out Intuit Online Payroll Software and make running payroll simple so you can focus on what you do best.
Paying Past Due Taxes
When paying past due taxes, include a letter along with your payment to the IRS stating that you want your payment applied to the trust fund portion of the tax you owe first (i.e. social security, Medicare, and federal income taxes).
Include the following in your letter and on your check:
Your employer identification number (EIN)
The type of tax involved
The period covered. For example, 4th quarter 2015
In the memo area of your check write: "Apply to trust fund portion" if you're late paying these taxes.
File your personal and small business taxes (Schedule C)