Employment Tax Returns Explained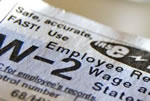 Even if you have only one employee, you must comply with federal and state annual and quarterly employment tax reporting and deposit requirements.
Form W-2, Wage and Tax Statement:
Form W-2 is issued annually to each employee to report wages, tips and other compensation, as well as federal income withheld, social security and Medicare tax withheld. State and local, if applicable, are also reported on Form W-2 as well as other information employment-related information.
Form W-3, Transmittal of Wage and Tax Statements:
Form W-3 is a used to summarize data reported on each W-2 and to transmit all W-2 forms. Form W-3 and Copy A of each W-2 is filed with the Social Security Administration.
Form W-2, Wage and Tax Statement
Paper returns and electronically filed returns must be received by employees by January 31 of the following year. File Copy A of Form W-2 (and the accompanying transmittal Form W-3) by February 28 (or the 29th during a leap year) with the Social Security Administration. Electronically filed returns are due by March 31.

Requesting an extension:
You can request a filing extension of 30 days with the Social Security Administration by sending Form 8809, Request for Extension of Time to File Information Returns.
Where to Send Copy A of Form W-2 and one transmittal Form W-3 to:
Social Security Administration,
Data Operations Center
Wilkes-Barre, PA 18769-0001.

Certified mail is recommended. If you use certified mail, change the zip code for the above address to 18769-0002.
If you use an IRS-approved private delivery service, add two things to the above address:
Attn: W-2 Process, 1150 E. Mountain Drive.
Change the zip code to:18702-7997.
For electronic filing of Form W-2 visit: wwww.socialsecurity.gov/employer.
Form 941, Employer's Quarterly Federal Tax Return
Form 941 is used to report:
Federal income taxes withheld
Social Security taxes withheld
Medicare taxes withheld
The employer's share of social security and Medicare taxes
Employment tax deposits made for the quarter.
Form 941 due date:
Form 941 is due by the end of the month following the last month of each quarter. For example, the last month of the first quarter for calendar year taxpayers is March. Therefore, Form 941 would be due April 30.
You can mail Form 941 or file it electronically through an authorized third party transmitter using the IRS 941 online filing program.
Form 941 due dates are: April 30, July 31, October 31, and January 31.
Form 940, Employer's Annual Federal Unemployment (FUTA) Tax
FUTA tax is strictly an employer paid tax. Employees do not pay it. Form 940 is filed annually with the IRS. It may be file electronically.
Form 944, Employer's Annual Federal Tax Return
Form 944 is only filed if you were notified by the IRS in writing to do so.
Form W-4, Employee's Withholding Allowance Certificate:
Form W-4 must be completed by each new hire. Federal income tax to be withheld is based on the number of exemption allowances claimed on the W-4. All employees must complete Form W-4 and Form I-9 before they may start working for an employer.
Form I-9, Employment Eligibility Verification:
Form I-9 must be completed by each new hire.
This form is issued by the U.S. Citizenship and Immigration Services (USCIS).
You can get this form from USCIS offices or by calling 1-800-870-3676. Contact the USCIS at 1-800-375-5283 or access its web site at www.uscis.gov for more information.
Zero Wage Return
If you have not filed a final Form 941 or Form 944, or are not a seasonal employer, you must continue to file a Form 941 or Form 944 even for periods during which you paid no wages.
The IRS encourages you to file your Zero Wage Forms 941 or 944 electronically, using IRS e-file at www.irs.gov.
Do Your Payroll Online!
Get started with Intuit Online Payroll Software and make running payroll simple so you can focus on what you love.
QuickBooks Self-Employed
For Freelancers and independent Contractors

- Organize your financial data into one central accounting system on the cloud
- Software kept up to date.
- Your data kept secure
- Anytime, anywhere data access.
- Pay your quarterly estimated taxes online.
- Export Schedule C to TurboTax at year-end for faster filing.
- Save up to 50% off QuickBooks Self-Employed. Track every deduction! Start your free trial now!
Have an accounting or bookkeeping question? Email it to me.