What Are Travel Expenses?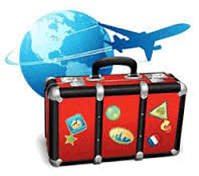 Travel expenses are defined as ordinary and necessary expenses related to your business, profession, or job while traveling away from home.
Who May Deduct Travel Expenses?
Travel expenses may be deducted by:
Self-Employed Persons
Employees
Unemployed Persons
Transportation industry workers (get special treatment)
Self-Employed Persons
Self-employed persons deduct business-related travel expenses while away from home as a business expense on Schedule C.
The 2% of adjusted gross income (AGI) floor does not apply to self-employed persons because the deduction is taken on Schedule C and not on Schedule A (Form 1040) where the 2% floor does apply to employees claiming unreimbursed business-related expenses..
Employees
Employees use Form 2106 or 2106-EZ (the short form) to report business expenses and reimbursements received from their employer, if any. The unreimbursed portion of the employee's business expenses is carried to Schedule A, line 21, under the category Job Expenses and Certain Miscellaneous Deductions, where they are reduced by 2% of adjusted gross income. Only the excess over 2% of AGI is deductible.
For example, if AGI is $40,000, and the employee had unreimbursed business expenses totaling $850, only $50 would be deductible since 2% x $40,000 = $800.
If you're an employee, and take local one-day trips to see customers/clients, you're allowed to deduct your transportation expenses, but not the cost of personal meals within the general area of your tax home.
If you're an employee, you may use short form 2106-EZ if you were not reimbursed by your employer and you do not claim depreciation on a vehicle used for business.
Accountable Plan
Under an accountable plan, an expense allowance for travel costs is not reported as income on Form W-2 if you substantiated the expenses to your employer and returned any unsubstantiated portion of the allowance.
A reimbursement or allowance arrangement is an accountable plan if you must:
Adequately account to your employer for your expenses; and
Return any excess reimbursement or allowance to your employer that you do not show was spent for ordinary and necessary business expenses.
If the above terms are met and your expenses are fully reimbursed, you do not report the expenses or the reimbursement on your return. However, if the reimbursement is less than what you spent, you claim a deduction for unreimbursed amount of your expenses on Form 2106 and Schedule A.
Unemployed Persons
An unemployed person may deduct travel costs to find a new job, including meals and lodging.
The deduction is claimed on Schedule A and must exceed 2% of adjusted gross income to get any tax benefit. Only 50% of meal costs are deductible. However, lodging costs are 100% deductible.

First-time job seekers may not deduct expenses to find their first job.
Transportation Industry Workers
Employees or self-employed persons in the transportation industry may elect to claim a special M&IE (meals and incidental expenses) rate.
Transportation Costs
Transportation costs of getting from home to the business location and back home are 100% deductible.
Once you arrive at the business location, you may deduct 100% of the cost of:
Transportation between the airport and the hotel, and
Transportation between the hotel and all business locations.
Lodging
Lodging costs are 100% deductible. Make sure you have receipts for lodging.
Service Tips
Tips to service personnel are 100% deductible. For example, taxis, baggage handlers, and maid service.
Tips to waiters/waitresses for meals are only 50% deductible.
Services
Dry cleaning and laundry expenses are 100% deductible.
Business-related telephone and internet charges are 100% deductible.
Meal Allowance (Food and Beverages)
You can claim actual meal costs, if you maintain records, or use the standard meal allowance (M&IE) rages, which changes periodically.
Keep a record of the time, place, and business purpose of the trips. Failing to keep records could cost you the deduction.
Entertaining Business Associates on Business Trips
You may deduct:
Food and beverage costs, including taxes and tips. Only 50% of these costs are deductible.
Tickets to entertainment events. Only 50% of the face value of a ticket is deductible even if you actually pay more, for example, to a scalper.
Transportation costs to and from a restaurant and/or entertainment facility are 100% deductible.
QuickBooks Self-Employed
For Freelancers and independent Contractors

- Organize your financial data into one central accounting system on the cloud
- Software kept up to date.
- Your data kept secure
- Anytime, anywhere data access.
- Pay your quarterly estimated taxes online.
- Export Schedule C to TurboTax at year-end for faster filing.
- Save up to 50% off QuickBooks Self-Employed. Track every deduction! Start your free trial now!
Have an accounting or bookkeeping question? Email it to me.