How to Deduct Start-up Costs and Organization Costs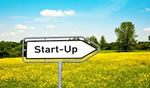 Start-up Costs
You may elect to deduct up to $5,000 of start-up costs in the year your business begins operations. The $5,000 first-year deduction limit is reduced by the amount of start-up costs exceeding $50,000.
Start-up costs that exceed the first-year limit of $5,000 may be amortized ratably over 15 years. The amortization period starts with the month you begin operating your active trade or businesss.
Start-up costs include amounts paid for the following:
An analysis or survey of potential markets, products, labor supply, transportation facilities, etc.
Advertisements for the opening of the business.
Salaries and wages for employees who are being trained and their instructors.
Travel and other necessary costs for securing prospective distributors, suppliers, or customers.
Salaries and fees for executives and consultants, or for similar professional services.
How to Claim Start-up Costs
You claim the deduction for start-up costs in Part V of Schedule C ("Other Expenses"). Any excess amount over the first year limit of $5,000 must be amortized over 15 years (180 months). An election to amortize the excess over $5,000 is made by claiming the deduction on Form 4562, Part VI.
On Form 4562, Part VI:
Enter the amortization amount on line 42.
Column (d) asks for the Code section; enter 195. This is the Internal Revenue Code Section for Start-up Expenditures.
Add lines 42 and 43 in column F. The total is entered on line 44.
The total amount on line 44 is entered in Part V of Schedule C, "Other Expenses".
Schedule C, Line 27a:
The total amount in the "Other Expenses" section of Schedule C, Part V, line 48, is carried to Line 27a of Schedule C.
Example:
You began business operations July 1, 2015.
You had start-up costs of $20,000.
You may deduct $5,500 in 2015.
Figured as follows:
First-year limit, $5,000, plus
First year's amortization, $500.
A full year's amortization would be $1,000 ($20,000 minus $5,000 divided by 15). However, since the amortization period began July 1, 2015 (the month business operations began), the first year's amortization is one half of $1,000 or $500.
Using Form 4562 and Schedule C:
Enter the $500 amortization amount in Part VI, Form 4562, to elect to claim amortization. Also enter the number 195 in Column (d) (the Code section for Start-up expenses).
Enter the $5,000 first-year limit and the $500 amortization amount in Part V of Schedule C. You can enter the $5,000 and $500 on a separate line and include a description for each item. For example, "First year start-up expnese limit" for the $5,000 and "Amortization of excess start-up costs over first-year limit" for the $500.
Note that the total amount on Line 48, in Part V of Schedule C is carried to Line 27a of Schedule C.
After the the first year of business operations, continue amortizing the remaining $14,500 over the next fourteen and one half years using Part VI, Form 4562 and Part V, Schedule C.
Deduct $1,000 per year for 14 years.
Deduct $500 (50% x $1,000) in the fifteenth year (Jan - June, the final six months of the 15-year amortization period).
Organization Costs for a Partnership or Corporation
Costs related to the creation of a partnership or corporation are also deductible or amortizable under the same rules for start-up costs discussed above.
Partnerships:
Qualifying costs may include items such as, legal fees for negotiating and preparing a partnership agreement, management fees, consulting fees, accounting fees in setting up the partnership.
You may not deduct or amortize syndication costs of issuing and marketing partnership interests, such as brokerage and registration fees, underwriting fees, and costs of preparing a prospectus.
Corporations:
Qualifying expenses for a corporation include incorporation fees, accounting fees, legal fees for preparing corporate documents, such as Articles of Incorporation, and the cost of Organization meetings.
You may not deduct costs for stock or securities (i.e. commissions).
QuickBooks Self-Employed
For Freelancers and independent Contractors

- Organize your financial data into one central accounting system on the cloud
- Software kept up to date.
- Your data kept secure
- Anytime, anywhere data access.
- Pay your quarterly estimated taxes online.
- Export Schedule C to TurboTax at year-end for faster filing.
- Save up to 50% off QuickBooks Self-Employed. Track every deduction! Start your free trial now!
Have an accounting or bookkeeping question? Email it to me.